What Is A Commercial Locksmith?
A commercial locksmith is a professional locksmith who focuses on locks, access, and security of commercial businesses. Because they sometimes work with security systems, they are usually required to pass rigorous background checks. A typical work day may include installing new locks, repairing existing locks, assisting with lockouts, monitoring and researching security technology. They stay up-to-date with the latest advancements in locks, including knowing how to install both indoor, outdoor or master locking systems as well as key-less systems. When an employee is hired or terminated, the locking and security systems constantly change to keep up with the company's needs.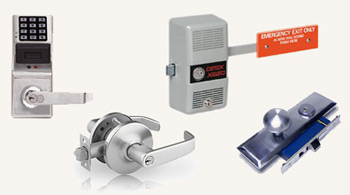 Another aspect of a commercial locksmith's work is to repair locks and know when to recommend locks rekeying or completely new locks change system. The commercial locksmith is on call for emergencies or to allow a boss or employee to get inside if they lose their key or are otherwise locked out. They may also help with safes and window locks. A commercial locksmith is skilled in installing, adjusting and repairing commercial locks and security devices. They fabricate and duplicate locking keys, change lock combinations, and bypass locks when authorized. A commercial locksmith will be able to cut keys for any type of lock whether it's cabinet, padlocks, doors, or safes.
Since a commercial locksmith will work hand-in-hand with helping your company stay safe, you will want to interview several locksmiths before deciding on which one is the best for your company's commercial needs.
Six Questions To Ask Before Hiring a Commercial Locksmith
What is the skills range of the locksmith? Will they be able to do everything from installing a door lock to providing on-the-call help or assistance with security systems or electronic access systems?

Find a commercial locksmith who will consult with you to assess your company's needs.

Ask them to inspect the integrity of the building's doors, frames, hinges, panic hardware and security systems.

What distance do they cover? For instance, will you be charged extra if your company's building is located several miles from the locksmith's place of business?

Ask if they are a member of the Associated Locksmiths of America ALOA. While it's not a requirement for any locksmith, it's good to know to help make the decision as to which locksmith you hire. ALOA is an organization that provides continuing education to keep their skills fresh in areas of locks, access control, and security along with a code of ethics.

Does the locksmith have the capacity to grow with the company he or she is serving?
Once you are happy with the right commercial locksmith for your business, you will do more than merely hire them for one job or a happenstance lockout emergency. The right commercial locksmith will become someone you will call upon for every locking and security need. You build a long-term relationship.