Out of the common style of locks, which are the best type of locks, and how does the ANSI grading system work?
ANSI Grading System For Door Locks
The American National Standards Institute, abbreviated as ANSI, has established three grades for door locks to help identify the quality and durability of locksets and deadbolts. Each lock must pass rigorous testing for operation, security, cycles, door strikes, and weight testing. An ANSI rating of Grade 1 is the best.
ANSI Grade 1 – Grade 1 is the best and highest grade security available. All locks tested at this level meets commercial building requirements and is also available to be used for residential deadbolts. For a knob lock to be rated at the best rating, it must withstand 800,000 cycles, 6 door strikes, and 360-pound weight test. Deadbolts must withstand 250,000 cycles and 10 door strikes in a hammer test.
ANSI Grade 2 – Grade 2 is considered to be a better rating. Locks at the Grade 2 level exceeds standard residential security and building requirements while meeting light commercial building specifications. For a knob lock to be rated Grade 2, it must withstand 400,000 cycles, 4 door strikes, and a 250-pound weight test. A deadbolt must withstand 150,000 cycles and 5 door strikes with a hammer test.
ANSI Grade 3 – Grade 3 is considered to be a good rating and meets residential building requirements but not commercial requirements. For a knob lock to receive a Grade 3 rating, it must withstand 200,000 cycles, 2 door strikes, and a 150-pound weight test. A deadbolt must withstand 100,000 cycles and 2 door strikes with a hammer test.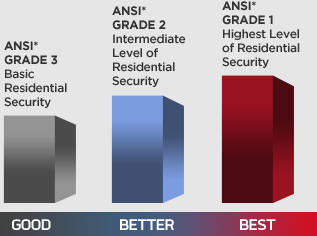 Styles of Locks
Knob Locks
Probably the most used type of locks is knob locks. Knob locks are used on a variety of doors from the front entrance to the patio or garage door. Knob locks have a door know on both sides of the door. One side has a lock button that you turn to lock or unlock, and the other side of the door has a keyhole that requires a key to be inserted to lock and unlock. The keyhole is usually placed on the outside of the door. Knob locks are commonly used but are also one of the most unsecure locks available as they can easily be broken or picked. 
Lever Handle Locks
As the name implies, these locks have a handle and are usually found on interior doors. If the handle lock has a lever, they don't require a key. You simply push or twist a button.
Deadbolt Locks
Deadbolts are typically found on the front or main entry doors as they provide the most secure form of keyed lock protection at the most affordable cost. Deadbolts use a metal bolt that slides into the door jam. The bolt is controlled by inserting a key and turning. Within the deadbolt style of locks, there are single deadbolts which have a lock turn on the inside and a keyhole on the outside, a double deadbolt lock that has a keyhole on both sides of the door, a jimmy-proof deadbolt, and captive deadbolts.
Keyless Entry Pad Locks
Keyless entry padlocks are controlled electronically. Deadbolts are also available with keyless entry pads. They require a code to slide the deadbolt open. They cost more to install but provide a high level of security.
Find the best style and grade of lock for your residential or commercial security needs. Do your research, and ask a qualified and knowledgeable professional locksmith Denver to determine the best type of lock for your needs.