Panic hardware is part of an exit device on doors designed to provide building occupants a way to quickly, easily, and safely exit the building during an emergency. There are requirements for educational facilities, buildings with assembly occupancy as well as some high hazard environments to have panic hardware installed. Though, there are buildings that require panic hardware; sometimes, because of the ease of use and extreme durability, panic hardware is installed on doors in buildings that do not require it by code.
When is panic hardware required on exit doors?
Panic hardware also referred to as fire exit hardware, is required by the International Building Code IBC and NFPA 101. Depending on the year and type of facility, the requirements change sometimes drastically. The Life Safety Code NFPA 101 and the International Building Code IBC both provide information about panic hardware requirements, but these requirements are different depending on many factors.
Generally speaking, if a door is not equipped with a latch or lock with a push/pull application, the door is not required to have panic hardware. One term to keep in mind when talking about panic hardware on doors is the use of the word, "egress". Egress is the act of going out or leaving a place. So, an egress door would be a means to exit.
The panic hardware requirements vary depending upon the year and other factors:
2006 and 2009 IBC requires panic hardware on egress doors in educational and other buildings with 50 or more occupants.
2000 and 2003 IBC requires panic hardware on egress doors in educational and other buildings with 100 or more occupants.
NFPA 101 is the Life Safety Code encompasses high hazard occupancies with 100 occupants or more.
Some high hazard situations include:
Rooms where equipment is used with more than 600 volts and equipment with less than 600 volts but more than 800 amps.

Boiler, Incinerator, or furnace rooms

refrigeration machinery rooms

some electrical rooms
when panic hardware is required on exit doors, some of the requirements for panic hardware include:
The actuating portion of the device must be at least half the width of the door.

The maximum unlatching force shall not exceed 15 pounds.

When a touch-pad is used on balanced doors, panic hardware must be a touch-pad that does not extend more than half the width of the door measured from latch side.

Doors serving electrical rooms with equipment rated 1,200 amps or more.

Panic hardware may be required in any situation that there is believed to be a particular hazard and the panic hardware could provide for the safety of life.

No additional locking device, such as a deadbolt, chain, or padlock, may be installed on a door that requires panic hardware.

In some locations, the panic hardware doors must meet testing requirements for hurricane and tornado protection.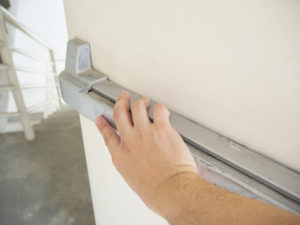 Additional requirements confuse the issue of when is panic hardware required on exit doors. Electric latch retraction use is one factor as well as the use of delayed egress hardware that would prevent the door from being opened from the egress side or controlled egress features.
While the panic hardware codes are complicated, the reason to install panic hardware is to ensure safety for the occupants should an emergency exit be necessary. Contact a knowledgeable locksmith who is up to date on the codes and information surrounding when is panic hardware required on exit doors.
For more information give us a call at (303) 309-7906.